No Cover! Open Jam every Thursday starting at 6 p.m. For more information, call 541-547-5459

Friday,
March 2,
9 p.m.

CHER & the B-SIDERS

Blues and rock from Portland veterans

Led by the vocals of Cher Pienicki, here is a group of veterans who have played the blues for about 150 years between them. That goes back a long way, but then so do the blues. Cher once sang with the L.A. Philharmonic choir and did a stint in Detroit at the feet of Esther Phillips. Backing comes from the Lb. 4 Lb. rhythm section, with the always effective John Pound on the seven-string bass.

Saturday,
Mar. 3,
9 p.m.

T. RAY & the SHADES


Rock and blues from a band with roots on the Oregon coast and New York

T. Ray and the Shades got a great shot in the arm this year with the addition of Matt Zekala, a guitar player from New York who learned his licks in the heady 1990s eastern jam atmosphere sparked by Blues Traveler. He provides a great counter-point to former South County resident T. Ray, the singer and shaker on the stage. And there is also Scott Johnston on the sax, recently transplanted from San Francisco. And pulling it all together is drummer Matt Murray, who grew up in Waldport.

Sunday,
Mar. 4,
8 p.m.

Special National Attraction!
THE JAMES ARMSTRONG BLUES BAND

Guitarist, singer and songwriter -- part of the top echelon of American blues players

His mother was a blues singer. His father played jazz guitar. He formed his first band in the seventh grade and by the age of 17 he was touring the country. Today he travels the world, keeping the foundations of the music alive night after night. He's had three releases on HighTone Records and two WC Handy nominations. He credits Jimi Hendrix and Robert Cray as singing influences and Albert Collins, Albert King and Eric Clapton as guitarists who constantly inspire him. After a near-fatal incident in 1998, he became more of an introspective player, introducing a variety of moods and atmospheres into his shows.

Friday,
March 9,
9 p.m.

JOHN SHIPE

Alt rock and folk from a solid singer whose songs never stop developing

Shipe has a 200-plus original song repertoire, a decade of touring, radio airplay, and nine recording projects -- 27 Shipe tunes have played on 100 independent and commercial radio stations, without the support of a major record label. He does bands and he does solo. He does duo and he has reunions with his old touring band The Renagade Saints. We'll let you know if they reunite at the Landmark. For now it's the duo.

Saturday,
March 10,
9 p.m.

THE SUMMIT UNDERGROUND

Mike Riley brings in the blues from up the mountains

Riley is a consistent and generous blues player who has lived the life all his life. This band is 15 years old, a testament to the mellow style and the depth of appreciation its members have for the music. The blues lives because musicians live the blues. Mike is backed by Vegas and LA session harp player Kooch Kucera, with Young Pappy Boynton on bass and Bongo Bob Pettit on drums.

Friday,
March 16,
9 p.m

THE DIMES
with EVE'S DILEMMA

From the Beatles to the present, hard-working indie rock

The Dimes are an up-and-coming band from Portland, masters of the indie rock style that lets the story be told without drowning in sound. Johnny Clay cut his licks in the Austin, Texas, club scene but is happy he made the move to Portland. He runs his band around the country seeking a full-time living from his music. He's close to making that happen. The dust hasn't settled on The Dimes. Eve's Dillema is another indie band that should help light up the night with the energy of rock.

Saturday,
March 17,
9 p.m.

St. Patrick Day's Party!

BOTTOMS UP BLUES GANG

Award-winning St. Louis blues band with a special acoustic sound

The Landmark is unique for many reasons, not the least of which is that it allows performers to perform. It gives a band like the BUBG a place to shine. And sometimes there will be that singer you wish you hadn't missed when she was on her way up. Meet Kari Liston of St. Louis, MO, working hard on developing her style in places like Yachats, OR. She brings the river in her voice and pays close attention to its sound. Catch her before she's gone.

WINNER -- 2006 ST. LOUIS MUSIC AWARDS PEOPLE'S CHOICE ­ ACOUSTIC BLUES

Friday,
March 23,
9 p.m
JAKE BLAIR BAND

Sizzling' blues guitar from a young man on his way up

In the four years 20-year old Jake Blair has played at the Landmark we've had the pleasure of watching the development of guitar sizzle at its cleanest. Jake is a juke box of things he's heard, things he's experienced through the sound and things he can spit back with his own slash and drive. He's settled into this three-piece band, where distractions are few and the riffs just roll on. And watch this space for the upcoming Jake Blair 21st birthday weekend.

link...

Saturday,
March 24,
9 p.m
J. R. SIMS & TEXAS SPECIAL

From SRV to Hendrix - those rippin' blues from the south

J.R. is the consummate blues guitar player who can recreate the sound of the tradition as well as anyone. Stevie Ray rewrote the Texas blues of the 40s and 50s into the high-flying guitar styles that last today. J.R. was there when Stevie Ray invented this stuff and J.R. brings it right into the Yachats living room for your listening pleasure

Sunday,
March 25,
9 p.m
TAPHABIT

Jam band from Bellingham that weaves a funk, ,jazz and reggae rug of good feelings

This from the.Bellingham Whats-up magazine : "TapHabit has quickly established themselves as a strong musical force, amassing a substantial following after a series of well-received performances. The band's immediate success can be attributed to it's ability to effortlessly meld a wide variety of musical genres and diverse influences. TapHabit's distinctive sound dips into pop, reggae and soul with a rock solid backbone of funk, maintaining enough freedom to allow for masterful improvisational segues. While the rhythm section holds down the deepest pockets in the Northwest, refined and tasteful melodies effectively balance out the hard-hitting funk with a bright and enticing sound. Best live show in town" TapHabit has shared the stage with Vicci Martinez, Bill Frisell, New Monsoon, March Fourth Marching Band, Flowmotion, Shanti Groove, Clinton Fearon and the Boogie Brown Band, The Lifesavas, Acorn Project, Sway, Handful of Luvin and Stu Allen of the Jerry Garcia Band. Bring them on!

Friday,
March 30,
9 p.m.
LUMINESCENT ORCHESTRII

Romanian Gypsy punk from New York City.

Here comes a very different band, the likes of which Yachats has rarely (if ever) seen. Let's start with a-rocking klezmer, some haunting Balkan harmony, hip-hop beats and an Appalachian fiddle, two violins, a resophonic guitar, and don't forget the bullhorn harmonica and bass. The members of the Orchestrii come from different scenes in New York City. Sxip Shirey is an international circus composer, Sarah Alden is an old-time fiddle player, Rima Fand is an experimental theater composer, and Benjy Fox-Rosen is a free-jazz bassist. Since 2002, when the band was formed, the Luminescent Orchestrii has toured the East Coast, England, Scotland, and Germany, and has traveled to Romania, Macedonia, Turkey and Serbia for inspiration. They most recently returned from Serbia's Drago aDevo Trumpet Festival, a 47-year-old festival that takes place in the small town of Guada, where hordes of competing gypsy brass bands take to the streets and restaurants.

Saturday,
March 31
9 p.m.
HOOKAH STEW

John Michael Young can play them all -- and does: funk, blues and rock

Some performers of the electric guitar stay outside the instrument; others, like the leader of Hookah Stew, go inside. John Michael Young formed this band 10 years ago and gave it a crash course of Cherry Poppin' Daddies, Aquarium Release and the Five Fingers of Funk. Some Stevie Wonder and a lot of Hendrix has rounded the sound in the past few years. Just ask him and he'll probably be able to play it.
---
Mailing address: P.O. Box 14, Yachats, OR 97498
Phones: Restaurant, (541) 547-3215; Bar, (541) 547-5459
The Landmark opens at 8 a.m. every day.
© Copyright 2006 - 2008 The Landmark. All rights reserved.
Looking Ahead!
Future Attractions
Friday,
April 13,
9 p.m.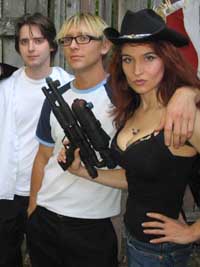 THE DEAD AMERICANS
Male/female vocal harmonies sung over driving, psychedelic guitar-driven rock
This Eugene five-piece strolled into the Landmark on a February night and lit the place up. It was one of those kismet things you've seen in the movies. No covers, no messing around between songs, just hard-ahead rock for 36 straight originals. Zak Johnston is all energy, ripping his lead guitar from the New York clubs of the late 1970s. Kyra Kelly fronts and harmonizes, playing with various props, a toy guy, Monopoly money, little flags. The three rhythm players back in on vocals as well as the beat and the whole thing comes out as one, reminding listeners of Blondie or the more current Daddy Warhols. Whatever it takes to make music the Dead Americans are alive with the magic. And don't settle for the just the live show, the CD "The Boy Who Shot Out the Sun" is just as solid as the performance.
---
Sunday,
May 6
8 p.m.
THE SCOTT HOLT BAND
Guitar lieutenant for Buddy Guy now has five records of his own, Southern rock
Now based in Columbia, Tennessee, after a long run in Chicago, Holt has been on his own since 1999, so he is a little tired of being linked to Buddy Guy. With a string of exciting CDs, including the current "Revelator" Holt has long since moved out of the shadow of the legend. Holt is back to the Southern roots, evoking the Allmans and Lynard Skynard with a flying, smiling, slamming guitar style that seems always bent over backward with powerful, sympathetic licks.
---
Sunday,
May 20
8 p.m.
Special National Attraction!
THE TERRY EVANS BAND
The golden sounds of soul and blues from a life-long practitioner
On tour supporting a new release "Fire in the Feeling," Evans has twice wrapped the Landmark around his little finger. The band's previous release "Mississippi Magic" was nominated Best Soul Blues Album of the Year at the WC Handy Blues Music Awards 2002. The new release captures the soulful and gospel influenced vocal work that Terry is best known for. Evans and Bobby King released two recordings for Rounder Records in 1988 and 1990. He also has performed and recorded with Ry Cooder including a lead vocal roll in the movie soundtrack for Crossroads. "Fire in the Feeling\" marks the seventh solo record release for Terry since 1993. Feel the fire.
---