No Cover! Open Jam every Thursday starting at 6 p.m. For more information, call 541-547-5459

Thursday,
Jan. 11,
8 p.m.

Mardi Gras at the Landmark!
HARMONICA RED
& THE NEW HEARD

Legendary harp player brings in the sounds of New Orleans

This hard working band plays more than 250 dates a year, this year showcasing its release, "Even Trolls Love Rock and Roll." George Heard, AKA Harmonica Red, has appeared on hundreds of recordings, working with some of the true heavyweights of the music business, including Clarence "Gatemouth" Brown, Little Feat, The Meters, The Neville Brothers, Al Hirt, Dr. John, Bruce Daigrepont, Big Al & the Heavyweights and many more. His band includes the drummer on the last five Little Feat CDs. Red promises to bring along beads from the gutters of Bourbon Street and other Mardi Gras treats.

Friday,
Jan. 12,
9 p.m.

Landmark debut -
INNER LIMITS

Funk fusion from Eugene power trio

This group is led by Olem Alves, a cornerstone of the Eugene music scene,who learned guitar from James Thornbury of Canned Heat. He has played with Coco Montoya, Duke Robillard, Paul DeLay and Linda Hornbuckle at clubs and festivals around the Northwest. He is joined by bassist Rob Kohler, a product of the Stanford Jazz Workshop, and drummer Kevin Congleton, fresh from the One O'clock Lab Band at the University of North Texas. A mainstay at Jo Federigo's in Eugene, with a critical hit CD "The Sound" here comes the future of funk.

Saturday,
Jan. 13,
9 p.m.

DIGGABONE

Jam doodling in a fusion groove from a Portland experiment

Eric Bohne is back with the latest incarnation of a hard-wroking project in originality. His label is called Made to Sound Pro Records and he lists is band as E.B., Doe Eye, J. Mac and Just B. The audience can be identified as Dig N. It.

Sunday,
Jan. 14,
8 p.m.

STEVE KERIN

In the Professor Longhair tradition from Lafayette, Louisiana

The Great Flood of 2005 sent ripples around the country, musical ripples that left people on our side of the country like Steve Kerin, who plays Louisiana piano and sings and shouts and carries on. The Landmark reminds some of Tipitina's in New Orleans and Steve reminds everybody of the Professor when he trills those trills and rolls around that keyboard.

Friday,
Jan. 19,
9 p.m.

CROSSTOWN ROCKERS

Classic rock from South Lincoln County

Out of the Steve Wheeler school of rock, a local trio with a range of covers. This configuration hasn't been in the Landmark for a while, but we are sure you'll need some dancing shoes for this. Featuring Bill Wallace on guitar and vocals. And with a special guest (we hear.)

Link...

Saturday,
Jan. 20,
9 p.m.

J.J. KASNER BAND

Texas swing and a taste of the blues via Austin, Texas

Jim Kasner is a recent returnee to the coast from Austin, Texas, where he learned Texas swing and the dry blues. Backed by the Blue Nation rhythm section and Jules Kasner on vocals, Jim has hit a nice stride. The swing tunes carry that echo of the 40s and give the dancers a little more room to sway and there are those at the Landmark who can make the moves just as they would have to Bob Wills or Spade Cooley.

Friday,
Jan. 26,
9 p.m.

Landmark debut
FLAT MOUNTAIN GIRLS

A high-energy old-time string band based in Portland

The Flats cover stuff from the hills and from the past -- Carter family classics, traditional songs from the Southern mountains, cowboy yodels, and romping fiddle tunes. They throw in an original now and then, always keeping the enthusiasm high. The band features Lisa Marsicek playing fiddle, Rachel Gold on banjo, Nann Alleman on guitar and Laura Quigley on bass. Get ready to stomp a foot or two.

Saturday,
Jan. 27,
9 p.m.

JAKE BLAIR BAND

Sizzling' blues guitar from a young man on his way up

In the four years 20-year old Jake Blair has played at the Landmark we've had the pleasure of watching the development of guitar sizzle at its cleanest. Jake is a juke box of things he's heard, things he's experienced through the sound and things he can spit back with his own slash and drive. He's settled into this three-piece band, where distractions few and the riffs just roll on.
---
Mailing address: P.O. Box 14, Yachats, OR 97498
Phones: Restaurant, (541) 547-3215; Bar, (541) 547-5459
The Landmark opens at 8 a.m. every day.
© Copyright 2006 - 2008 The Landmark. All rights reserved.
Looking Ahead!
Future Attractions
Sunday,
Feb. 18,
9 p.m.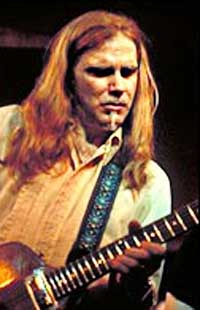 WOLFE
From New York City, psychedelic rock and blues led by the former lead guitar player for Sheryl Crow's touring band
The Wolfe here is Todd Wolfe and the tour went for five years. Crow was a rising star and she opened for a rather distinguished cro wd in the mid 1990s. The list includes Bob Dylan, the Rolling Stones and the Eagles. Todd got off the road around 1998, began running the blues jam at Manny's Car Wash in New York City, then evolved this new touring band that hits the Landmark. Lately, this band shared the bill with the likes of The Allman Brothers, Black Crowes, Blues Traveler, and John Mayall's Bluesbreakers. Wolfe has three CDs, "Delaware Crossing," (2004), "Wolfe" (2002) and "Live from Manny's Car Wash" (1999).
---
Friday,
March 9,
9 p.m.
THE FIELDSIDE REFUGEES Jam, rock and some country from Amarillo, Texas -- drum, sax and vocal
The leader of this original trio is Phlip Coggins, a native of Lubbock, Texas, who has been performing since he was 13. He is a 2006 graduate of South Plains College in Levelland, Texas, majoring in Commercial Music, Music Business, and Sound Technology. So here he is on the road with his first big post-gradutae project. Along with him is Quinton Butler, from Dallas, who by 8 was playing the sax. Straight out of school he played Dallas, Amarillo, Lubbock, and Midland/Odessa, joining with Coggins last year. The trio also includes Beau Corley, from Elk City, Okla., who has played drums since 1999 in Texas, New Mexico, and Colorado. This is a new band with new players, hitting out on the road to see where things stand. Look out Landmark, this could be something special.
---
Saturday,
March 17,
9 p.m.
St. Patrick Day's Party!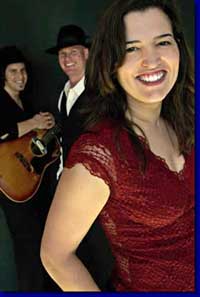 BOTTOMS UP BLUES GANG
Award-winning St. Louis blues band with a special acoustic sound
The Landmark is unique for many reasons, not the least of which is that it allows performers to perform. It gives a band like the BUBG a place to shine. And sometimes there will be that singer you wish you hadn't missed when she was on her way up. Meet Kari Liston of St. Louis, MO, working hard on developing her style in places like Yachats, OR. She brings the river in her voice and pays close attention to its sound. Catch her before she's gone.
WINNER -- 2006 ST. LOUIS MUSIC AWARDS PEOPLE"S CHOICE ­ ACOUSTIC BLUES
---
Plus...
Check out these pics from The Landmark's 2006 Halloween Party!
---