No Cover! Open Jam every Thursday starting at 6 p.m. For more information, call 541-547-5459

Friday
Feb. 2
9 p.m.

THE SUMMIT UNDERGROUND

Mike Riley brings in the blues from up the mountains

Riley is a consistent and generous blues player who has lived the life all his life. This band is 15 years old, a testament to the mellow style and the depth of appreciation its members have for the music. The blues lives because musicians live with the blues. Mike is backed by Vegas and LA session harp player Kooch Kucera, with Young Pappy Boynton on bass and Bongo Bob Pettit on drums.

Saturday,
Feb. 3,
9 p.m.

ERIC HATCHER AND THE WORKER BEES


Blues in the Portland style by a group of veterans

Here are four veterans based in Portland who evoke the names of Bloomfield and Butterfield. Featuring Eric Hatcher on vocals, guitar and slide guitar and Larry Oxley on harp and vocals, the band was a hit at last summer's Waterfront Blues Festival and has played the leading Northwest blues venues. Drummer Cody Christopherson has kept time in country, metal and blues circles and is joined in the rhythm section by newcomer Rick Mazzotta, recently off the plane from Connecticut.

Friday,
Feb. 9,
9 p.m.

CHUCKBARRYMANILOW

Reeotch and Tricky P add a few players and throw together a weird stew

This is a hyrda-headed band devoted somehow to Chuck Berry and Barry Manilow. How we ask? And what also does one make of the myspace reference to Louis Armstrong on acid. Did Armstrong actually take acid, back in the days when it was legal, back around the time Chuck Berry began to duck walk and the young Manilow wrote his first nursery rhyme. In this case, the stew somehow means a stiff shot of rock along with a clever chaser from the alternative wing..

Sunday,
Feb. 10,
9 p.m.

THE FRANKIE HERNANDEZ BAND

Soul, funk, Latin and reggae from Austin, Texas, via Grants Pass

Frankie has seen the musical world from just about every angle -- band leader, sideman, session staple -- from Austin to L.A. with stops around the country. He's played with the likes of Leftover Salmon, Phish, Seal, Outlawz and Rod Stewart. Since moving to southern Oregon he's performed at the Oregon Country Fair, High Sierra Music Festival, Earthdance, Kerrville Folk Festival, Falconridge Folk Festival, and the Santa Monica Earthday Festival. To say this bunch is high energy is to almost sell them short. In their first show at the Landmark a couple of months ago, the FHB had the crowd winging quickly to the beat. Horns, guitars and unstoppable rhythm.

Friday,
Feb. 16,
9 p.m.

THE DEAD AMERICANS

Male/female vocal harmonies sung over driving, psychedelic guitar-driven rock

This Eugene five-piece features the melodic songwriting of singer/guitarist Zak Johnson and the feminism-fueled lyrics of singer Kyra Kelly. The band has been together since 2002 with the current line-up starting to jell in Eugene and Northern California duirng the past year. It's been compared with Jefferson Airplane, Cave Dogs, and the Dandy Warhols. In addition to the leads the band consists of Terry Travis (guitar, vocals) John Raden (drums, vocals), and Josh Britton (bass, vocals). Their CD "The Boy Who Shot Out the Sun" has been reviewed well and received regualr air play on alternate rock stations.

Saturday,
Feb. 17,
9 p.m.

TWO LEG LUCY &
GAYELEE RUSSELL

Classic rock covers and a few originals from red hot Eugene guitar band

Roger McConnell and his band Two Leg Lucy is growing with every gig. His covers are sharper and his spooky, evocative guitar originals are starting to move into a leading role. Roger has toiled in other bands for years and is now experiencing a breakout run that comes from getting out on your own. GayeLee is also feeling the rush and the last appearance at the Landmark drew the kind of cheers that make for a special night. Do not miss this band -- they are on their way up.

Link...

Sunday,
Feb. 18,
9 p.m.

WOLFE

From New York City, psychedelic rock and blues led by the former lead guitar player for Sheryl Crow's touring band

The Wolfe here is Todd Wolfe and the tour went for five years. Crow was a rising star and she opened for a rather distinguished cro wd in the mid 1990s. The list includes Bob Dylan, the Rolling Stones and the Eagles. Todd got off the road around 1998, began running the blues jam at Manny's Car Wash in New York City, then evolved this new touring band that hits the Landmark. Lately, this band shared the bill with the likes of The Allman Brothers, Black Crowes, Blues Traveler, and John Mayall's Bluesbreakers. Wolfe has three CDs,"Delaware Crossing," (2004), "Wolfe" (2002) and "Live from Manny's Car Wash" (1999).

Friday & Saturday,
Feb. 22 - 23,
9 p.m.

BLUESDUSTERS

Originals soaked in the blues tradition, from Ashland

Bluesdusters is the project of a pair of blues veterans, Johnnie O. (John Nelson) from Chicago via Denver and L.A., and Grif (Leonard Griffie) from L.A. via L.A. These two and their bandmates generally stay away from covers and while they have a blues sound, they have a unique sound, dare we say it... an original sound. They call it American roots music and they know what they are talking about. Go for it, guys!
---
Mailing address: P.O. Box 14, Yachats, OR 97498
Phones: Restaurant, (541) 547-3215; Bar, (541) 547-5459
The Landmark opens at 8 a.m. every day.
© Copyright 2006 - 2008 The Landmark. All rights reserved.
Looking Ahead!
Future Attractions
Sunday,
March 3,
9 p.m.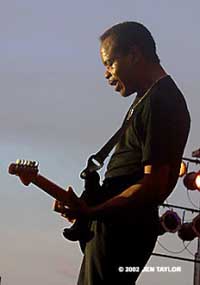 Special National Attraction!
THE JAMES ARMSTRONG BLUES BAND
Guitarist, singer and songwriter -- part of the top echelon of American blues players
His mother was a blues singer. His father played jazz guitar. He formed his first band in the seventh grade and by the age of 17 he was touring the country. Today he travels the world, keeping the foundations of the music alive night after night. He's had three releases on HighTone Records and two WC Handy nominations. He credits Jimi Hendrix and Robert Cray as singing influences and Albert Collins, Albert King and Eric Clapton as guitarists who constantly inspire him. After a near-fatal incident in 1998, he became more of an introspective player, introducing a variety of moods and atmospheres into his shows.
---
Saturday,
March 17,
9 p.m.
St. Patrick Day's Party!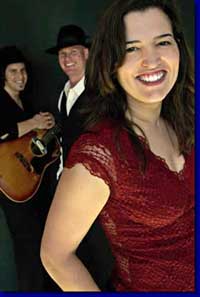 BOTTOMS UP BLUES GANG
Award-winning St. Louis blues band with a special acoustic sound
The Landmark is unique for many reasons, not the least of which is that it allows performers to perform. It gives a band like the BUBG a place to shine. And sometimes there will be that singer you wish you hadn't missed when she was on her way up. Meet Kari Liston of St. Louis, MO, working hard on developing her style in places like Yachats, OR. She brings the river in her voice and pays close attention to its sound. Catch her before she's gone.
WINNER -- 2006 ST. LOUIS MUSIC AWARDS PEOPLE"S CHOICE ­ ACOUSTIC BLUES
---
Sunday,
March 11,
8 p.m.
Special National Attraction!
THE JOE MOSS BAND
The real Chicago blues from a regular Windy City club band
Those who see the blues as a music of the past haven't heard Joe Moss. Here's a guy who is not just hooked on the music's gorgeous past, Moss works seven days a week to find his own sound within the style. He practices this craft at Chicago's top clubs, including Buddy Guy's Legends, the House of Blues and Kingston Mines. Joe is one of those guys who can talk with his music, speaking directly to his audience, buzzing out emotion straight from the heart. This is indeed special stuff.
---